A headshot is one of the most important tools you have as a professional actor. I spent over six years helping actors while working at a busy bi-coastal talent agency. Far too often, talented actors missed out on the critical audition opportunities that they deserved because of a poor headshot. A headshot is your calling card and what agents and casting directors see first. A strong headshot will help you get your foot in the door.
When I was a young actor, my first photographer rushed me through our shoot. When I started shooting, I decided to never schedule more than one actor a day.
Your shoot begins with us talking about what you want to achieve with your new headshots and where you are in your career. We'll go through my portfolio and I'll ask about what you were drawn to in my work (locations, mood, and lighting). Different locations and clothing options fit different roles and I'll help navigate you to what will work best for your goals.
Often, actors are using headshots that misrepresent the roles they're targeting, what they look like, or both. There's a troubling trend toward over-glamorized and over-retouched headshots as fashion photographers push into our industry. Casting directors have grown frustrated as actors walk into auditions looking nothing like the photo that was submitted. You should look great in your headshot, but it must look like you.
When looking through my portfolio, you'll notice a diverse variety of techniques. You and your headshot should never be boxed into a trademark style of a photographer. You're unique as an actor, and your headshot should reflect that. All of my shoots last at least two hours, so we can play with a variety of looks and moods. I love studio and on-location shooting (as long as New York City weather permits it). Check out the examples below of clients accomplishing different looks at their shoot.
<
>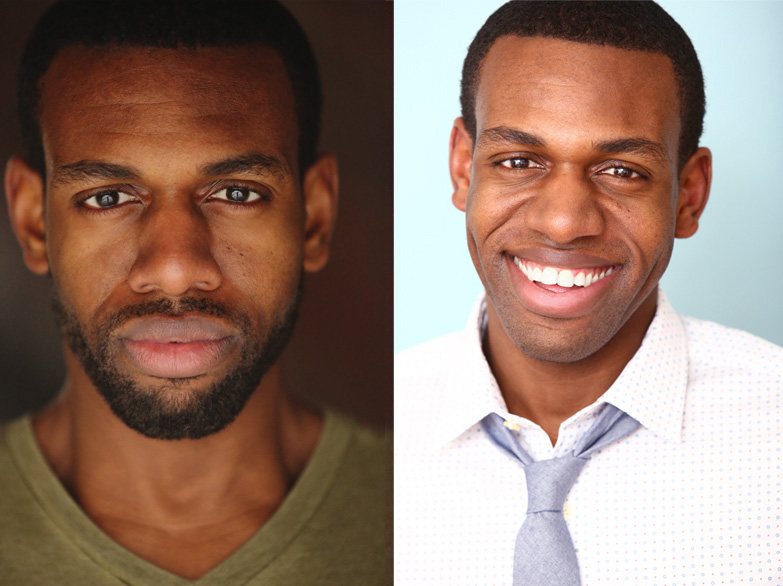 A dramatic shot (left) and commercial shot (right).
I've spent a lot of time thinking about how to make your headshot experience as simple and stress-free as possible. If you're like most actors, you spend your days surrounded by the madness of Midtown Manhattan. I was based in that area for a number of years, but decided to relocate to the Upper West Side, less than a block from Central Park. Working in this area is so much more relaxing for my clients. This neighborhood runs at a slower pace than the rest of the city and it helps break my clients out of the manic pace of the typical day-in-the-life of an actor.

Instead of working out of a vast stark studio, I've integrated all of my gear inconspicuously into my park-side apartment. I'm always surprised how little things here start a conversation - a book on the shelf, my collection of photographs, the wall of thank you cards, my nerdy collection of old video game systems.
"The atmosphere was very relaxed, very friendly. Chris made you feel like you had known him for years. Everyone seems to agree that my photo is a good reflection of not only what I look like, but who I am."
-Dolan Byrnes from the Backstage article "Picture Yourself Working: Getting the Headshot That's Right for You"
As we shoot, I'll show you previews of the images and we can make adjustments as needed. Most people have little habits that I'll help undo (forehead tension, shoulder tension, mouth tension, not breathing). My shoots are somewhere between an acting class and a yoga class. I'll pick on you a little bit, but you'll thank me later.
Ultimately, I want you to feel unintimidated and like you're hanging out with a friend. Bring along your favorite playlist (no judgments, I promise) and we'll listen to your music. Most actors stress over photo shoots, so I do my best to take your mind off it.
I take what I do seriously, but I don't take myself too seriously. More than once, my client has (affectionately) told me, "You're such a dork", as they laugh at my bad jokes. One time, I was shooting a client in Central Park at the baseball fields. I said, "See the lengths I go to for a good headshot? I risk being hit by a baseball for your headshot." Less than a minute later, I got hit in the back of the head by a stray foul ball. Yes, I survived, and the photos were some of the best in my portfolio. True story.
"Chris is calm, caring, and creative. I consider those 3 C's to count for a whole lot in a headshot photographer!"
- Jenn Gambatese (Broadway's School of Rock, Tarzan, All Shook Up, Hairspray)
After a shoot, everyone leaves excited to start narrowing down their top choices. Many photographers take days or weeks to get your images back to you. With me, you see them on the night of your shoot.
I built my online gallery system myself from the ground up. You'll be able to download all of your high-resolutions images, invite your friends to view and "like" their favorite images, and order the images you want retouched. I'll even pick out my favorite headshots to help you narrow them down.
All shoots also include two images that I personally retouch. Whenever I show my retouching samples, everyone always comments, "That's amazing, can you retouch me like that in real life?" All of my retouching work is natural, keeping in mind that you should look like yourself. As soon as I'm finished retouching, you'll be able to download your high-resolution images from my website.