I still remember my first headshot shoot when I was a young actor. Around a dozen nervous actors were getting corralled around a cavernous studio. When I finally sat down with the photographer, she put up her camera, I smiled, then she grimaced and barked, "Don't ever smile unless you mean it!" My eyes got big, my smile turned down, and it didn't come back the rest of the day. I've been photographing actors in New York for over eighteen years now, but I still remember what it feels like to be in front of a camera and how intimidating it can be. I approach my shoots with a simple philosophy: Be the photographer you needed when you were younger.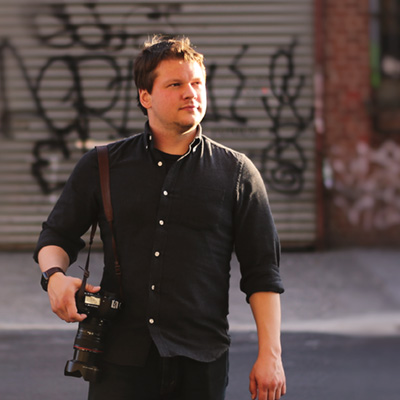 I only work with one client a day, so I'm never rushing you out because another actor is knocking at my door. My competitors think I'm crazy, but I value taking my time to get the best shots.
A headshot is one of the most important tools you have as a professional actor. I spent five years working at a bi-coastal talent agency where I helped hundreds of actors identify how best to market themselves. Many actors miss the critical opportunities that they deserve because of a poor headshot. Your headshot is your calling card and what agents and casting directors see first. A strong headshot will help you get your foot in the door.
Your shoot begins with us talking through what you want to achieve. We will go through my portfolio and discuss what looks, environments, and lighting you like the best. Not sure what would work best? That's okay. I'm happy to guide you through the entire process.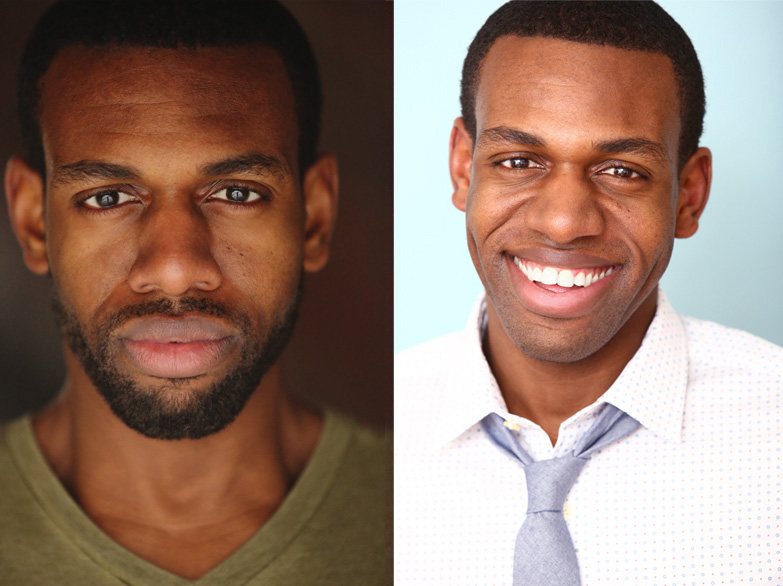 On this shoot, we picked a moody outdoor location for a dramatic shot
and then moved into the studio for a bright commercial shot.
My style of shooting does not limit you with a "one look fits all" mentality. When looking through my portfolio, you'll notice a wide variety of headshots. You and your headshot should never be boxed into a single trademark style of a photographer. You're unique, your headshot should be too. Because all of my sessions include two hours of shooting, we're able to shoot outdoors and indoors to achieve a variety of different looks.
"Chris is calm, caring, and creative. I consider those 3 C's to count for a whole lot in a headshot photographer!"
- Jenn Gambatese (Broadway's Rock of Ages, Tarzan, All Shook Up, Hairspray)

Before your shoot, send me a playlist of your favorite music or bring your iPhone/iPod (no judgments, I promise). Between listening to your music and our casual conversation, you will not even realize the camera is there. I'm here to support, not intimidate.
When we're shooting, my goal is to make you as unaware of my camera as possible. I want our environment to feel as if you are at your friend's apartment having a good conversation. You want your headshots to convey a laid back and relaxed look. I'll share previews of the images with you as we shoot so we can make any adjustments you want.
Many clients have lovingly told me, "You're such a dork", as they laugh at my bad jokes. One time, I was shooting a client in Central Park at the baseball fields. I said, "See the lengths I go to for a good headshot? I risk being hit by a baseball for your headshot." Less than a minute later, I got hit in the back of the head by a stray foul ball. Yes, I survived, and the photos were some of the best in my portfolio. True story.
"The atmosphere was very relaxed, very friendly. Chris made you feel like you had known him for years. Everyone seems to agree that my photo is a good reflection of not only what I look like, but who I am." 
-Dolan Byrnes from the Backstage article "Picture Yourself Working: Getting the Headshot That's Right for You"
After a shoot, everyone leaves excited to start narrowing down their top choices. Many photographers take days or weeks to get your images back to you. With me, you see them on the night of your shoot. I'll even pick out my favorite headshots to help you narrow them down.
I've built an image sharing system from the ground up to help you share and choose your photos. You can invite your friends/family/colleagues into the gallery and they'll be able to vote and comment on their favorite headshots.
All shoots also include two images that I personally retouch. Whenever I show my retouching samples, everyone always comments, "That's amazing, can you retouch me like that in real life?" All of my retouching work is very natural, keeping in mind that you should look like yourself. The moment I am done retouching your images, you'll be able to download them from my website and send them to your photo lab of choice.