A headshot is one of the most valuable tools you have as a professional actor. During the five years I spent working at a busy New York talent agency, I saw firsthand the difference a good headshot can make when submitting actors for film, television, and theater projects. Far too often, talented actors miss out on the important opportunities that they deserve because of a poor headshot. A headshot is your calling card and what agents and casting directors see first. A strong headshot will help you get your foot in the door.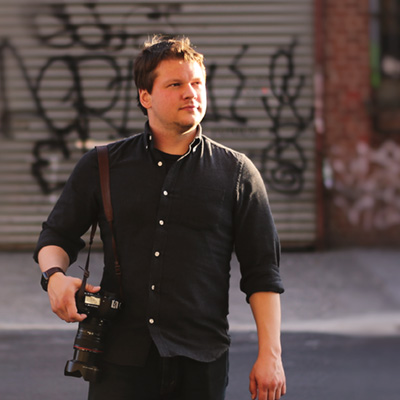 I only work with one client a day, so I'm never rushing you out because another actor is knocking at my door. It's just one of many ways my shoot experience is different than other studios.
I've been photographing actors in New York for over eighteen years now, but I spent my early years as an actor. I still remember the first time I had my headshots taken (it left an impression). Around a dozen nervous actors were getting corralled around a cavernous studio. When I finally sat down with the photographer, she put up her camera, I smiled, then she grimaced and barked, "Don't ever smile unless you mean it!" My eyes got big, my smile turned down, and it didn't come back the rest of the day. I still remember what it feels like to be in front of a camera. I've always approached my shoots with a simple philosophy: Be the photographer you wanted when you were an actor.
Your shoot begins with us talking through what you want to achieve. We will go through my portfolio and discuss what looks, environments, and lighting you like the best. Not sure what would work best? That's okay. I'm happy to guide you through the entire process.
We will talk about how you've been cast, I'll ask about the feedback you've received on your current photos, and what your career goals are. In many cases, actors are using headshots that misrepresent them. There's a troubling trend toward over-glamorized and over-retouched headshots. Casting directors have grown increasingly frustrated as actors walk into their offices looking nothing like the photo that was submitted. You should look great in your headshot, but it must look like you.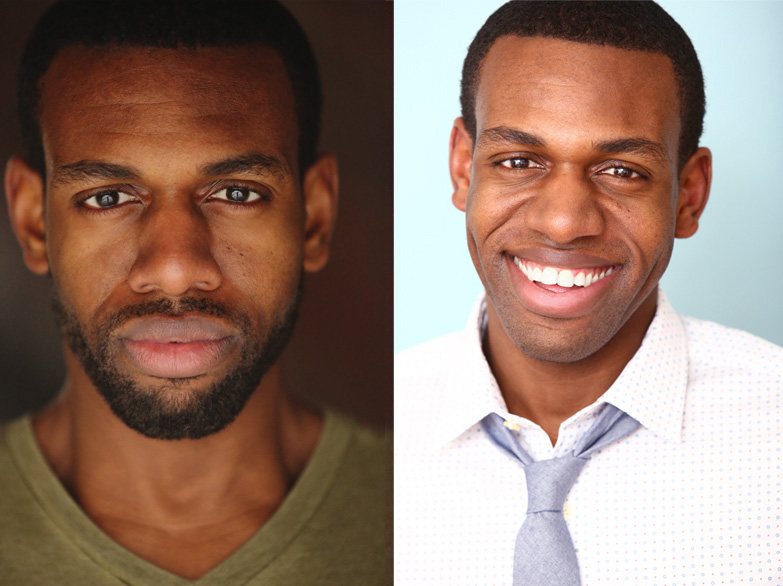 An outdoor dramatic shot (left) and an indoor commercial shot (right).
Ever notice how many portfolios are filled with images that all look the same? How boring. I refuse to limit my clients with a one-look-fits-all conveyor belt style of shooting. When looking through my portfolio, you'll notice a wide variety of styles. You and your headshot should never be boxed into a single trademark style of a photographer. You're unique and your headshot should be too. All of my sessions include two hours of shooting so we're able to shoot at various outdoor locations (weather permitting) and with a variety of indoor backgrounds.
"Chris is calm, caring, and creative. I consider those 3 C's to count for a whole lot in a headshot photographer!"
- Jenn Gambatese (Broadway's School of Rock, Tarzan, All Shook Up, Hairspray)
If you're like most actors, you spend your days surrounded by the madness of Midtown Manhattan. I was based in that area for a number of years, but decided to relocate to the Upper West Side next to Central Park. Working in this area is much less stressful for my clients than being surrounded by tourists and traffic.
Instead of working out of a stark empty studio, I've built everything neatly into my aparment. Astro, my rescue mutt, greets you at the door and then passes out on the couch (it's nothing personal, he likes to sleep).

I'm always surprised how the little things here start a conversation -- a book on the shelf, a photo on the wall, my collection of old video game systems. One time, someone noticed my Nintendo 64 and a few minutes later they were playing Mario Kart. I didn't think much of it at the time, but it left such an impression that you'll find it mentioned in my thank you card gallery.

I want you to feel like you're at a friend's apartment having a good time. Send me your favorite playlist or bring your music device (no judgments, I promise). Most people don't like photo shoots, so I do my best to take your mind off it.
As we shoot, I'll show you previews of the images and we can make adjustments as needed. Most people have little habits that I'll help undo (forehead tension, shoulder tension, mouth tension, not breathing). My shoots are somewhere between an acting class and a yoga class. I pick on you a little bit (nicely) during the shoot, but you'll thank me later.
Notice how everyone's actually laughing in their commercial shots? More than once a client has told me, "You're such a dork", as they laugh at my bad jokes. I have a lot of them. My first photographer yelled at me for fake smiling. It turned out her philosophy was right, but I found a better way to approach the problem. Lots of jokes.
"The atmosphere was very relaxed, very friendly. Chris made you feel like you had known him for years. Everyone seems to agree that my photo is a good reflection of not only what I look like, but who I am." 
-Dolan Byrnes from the Backstage article "Picture Yourself Working: Getting the Headshot That's Right for You"
After a shoot, everyone leaves excited to start narrowing down their top choices. Many photographers take days or weeks to get your images back to you. With me, you see them on the night of your shoot. I'll even pick out my favorite headshots to help you narrow them down.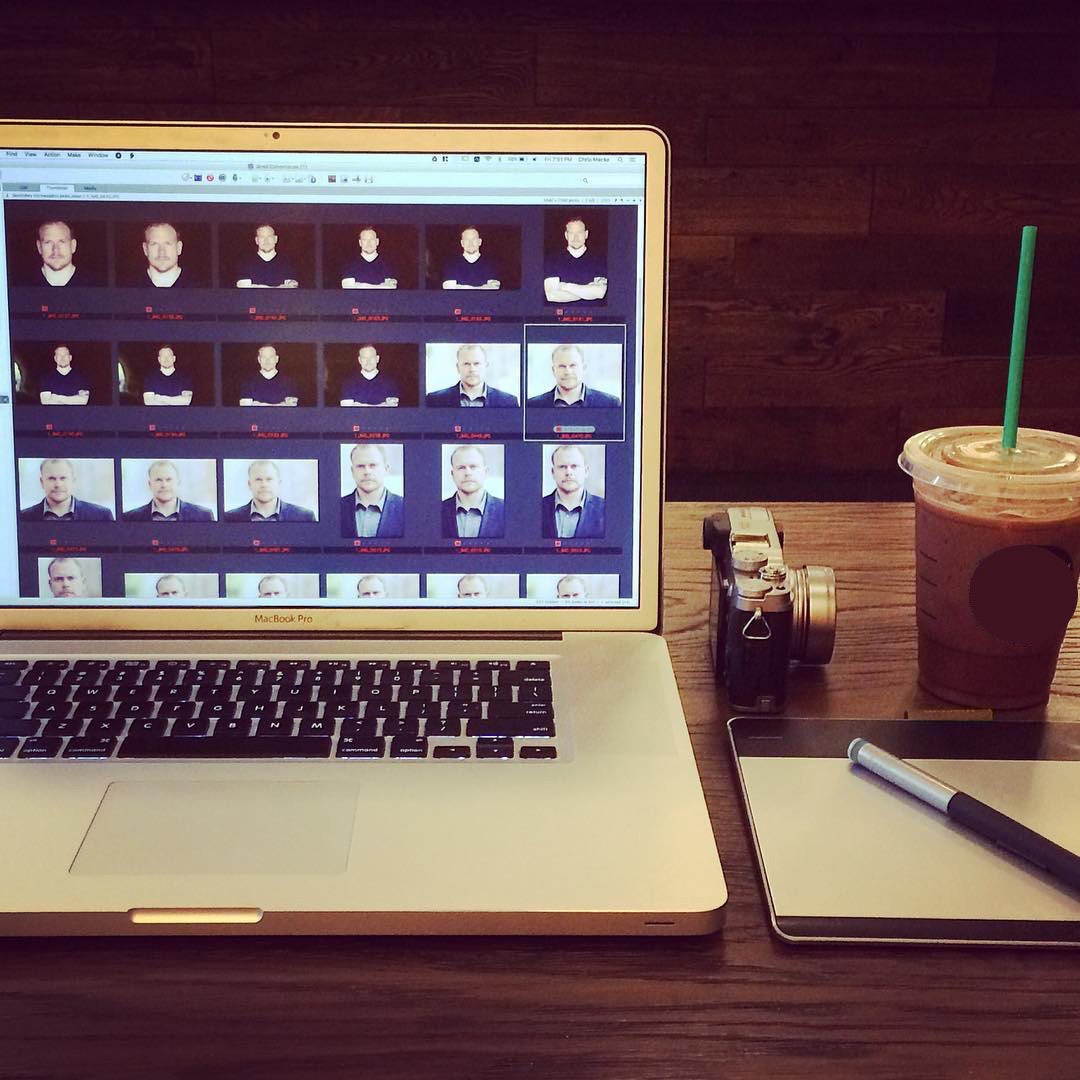 When you head home, my day is just beginning. I'll be busy sorting through all of your images, selecting my favorites, and uploading them to a private gallery. Same day results!
My online gallery system is pretty impressive. I built it myself. You can download all of the high-resolutions images, invite your friends to view and "like" their favorite images, and order the images you want retouched, all in one place. You can tell the gallery to put the most liked images at the top of the page, making the choosing process easy.
All shoots also include two images that I personally retouch. Whenever I show my retouching samples, everyone always comments, "That's amazing, can you retouch me like that in real life?" All of my retouching work is natural, keeping in mind that you should look like yourself. As soon as I'm finished retouching, you'll be able to download the high-resolution images from my website.